What are the basics?
DOS 101
The Digital Outcomes and Specialist framework (DOS) RM1043 sits alongside G-Cloud on the Digital Marketplace. The DOS framework is for the procurement of digital teams or individuals, often alongside in-house delivery teams. Opportunities on the Digital Outcomes and Specialist framework are advertised in the open and suppliers just need to search and apply for those that are applicable.
DOS came to the fore as the replacement for the Governments Digital Services framework. Which, whilst innovative for its time led to considerable frustrations for suppliers. DOS is now the primary way that central government buys the skills and services it needs to build digital teams. The framework is open to suppliers of all sizes and the application process is minimal, making it a goldmine for SME providers. However, one of the myths about DOS to dispel is that being on the framework guarantees you sales – in fact, the hard work comes not in listing but applying for tenders!
With Digital Outcomes and Specialists 5, the framework was delayed due to COVID-19, but still stood strong as a framework used by the public sector amid pressures for procurement to be much much quicker. At the end of 2021 some big changes happened to the Digital Marketplace and Digital Outcomes & Specialists. CCS introduced a brand new framework called Digital Specialists & Programmes, reducing the DOS framework to just Digital Outcomes. With the current Digital Outcomes & Specialists 5 running until April 2023, there is crossover between all three routes to market. So this guide will help you know which each one is all about, and how to use them successfully!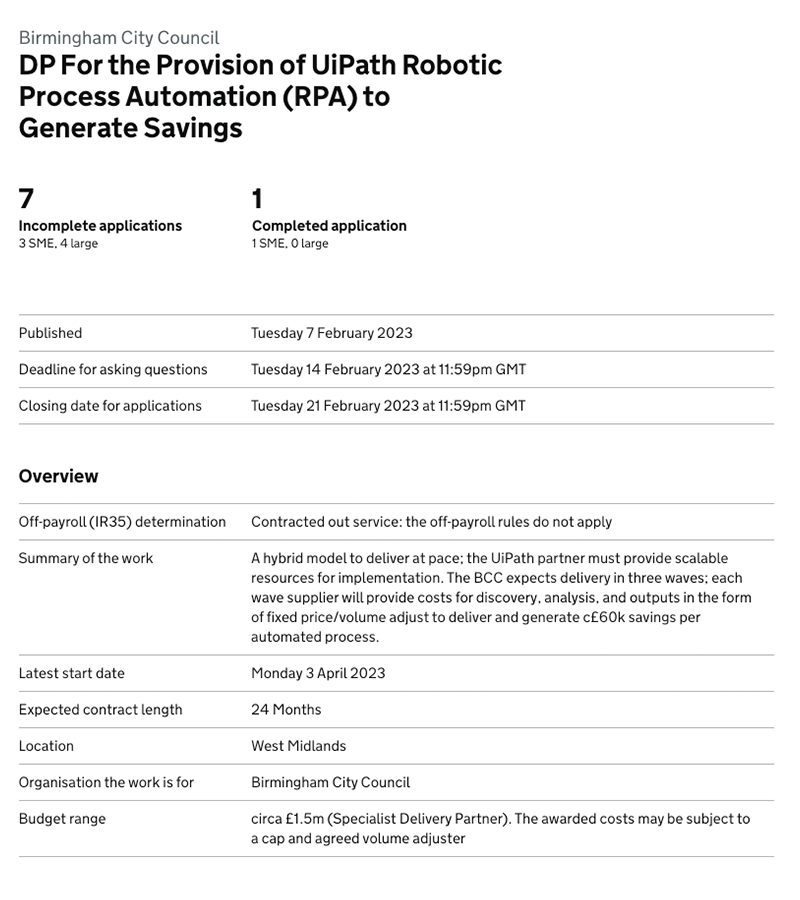 The solutions provided through DOS...
What are the Lots?
The Digital Outcomes & Specialists framework covers 4 areas:
Digital Outcomes – for suppliers looking to support a digital outcome within one of these abilities: Design, performance analysis and data, security, service delivery, software development, support and operations, testing and auditing, user research, user experience and design.
Digital Specialists (now it's own framework Digital Programmes and Specialists) – for suppliers hoping to provide an individual to work on a project in at least one of these roles: agile coach, business analyst, content designer or copywriter, cyber security specialist, delivery manager or project manager, designer, developer, communications specialist, performance analyst, portfolio manager, product manager, programme delivery manager, quality assurance analyst, service manager, technical architect, user researcher, web operations engineer.
User research studios – to provide facilities for the purposes of user research
User research participants – for the recruitment of participants for user research with a range of experience and who can best represent the users of the service you are developing.
Why should I get listed on DOS?
The benefits of Digital Outcomes & Specialists
Why do we love the DOS framework? Well, there are many benefits of being a supplier on the Digital Outcomes and Specialists framework, the first one being that £4.7bn worth of business has been put through the framework since it was launched in 2016!
Even better news if you are an SME as 33% of that £4.7bn was with SME providers. Others include the way that DOS makes it easy for buyers and suppliers to communicate in a more productive way in advance of applying for a tender. This functionality saves time, money and resources for both the buying organisation and the supplier. DOS also provides another route to market for suppliers looking to support digital transformation programmes across the whole of the public sector.
For a detailed breakdown of who is buying on DOS, check our Digital Outcomes and Specialist spend dashboard! 
Our Digital Outcomes & Specialists experience
We've helped our clients go on to win over £227m in contracts through the DOS framework. Through training sessions and workshops, and – more importantly – our expert bid review services.
of total DOS spend awarded to our clients

Out of all of the Digital Outcomes & Specialists spend to date, our clients have gone on to win 5% of it.

individual public sector bodies have bought our clients' services.

We work with suppliers from all backgrounds and with various offerings. This means we specialise in all areas of UK Government. From health and care, to MoJ.
How do I win business?
The DOS evaluation process
The application process for the Digital Outcomes and Specialists framework is not the hard part, it's writing great bids and winning business. We always say that getting on the DOS framework is just the start. Suppliers should have an effective bidding strategy and understand how buyers evaluate suppliers. Whilst the criteria and weightings are set on an opportunity by opportunity basis it is important to know the basics.
For consistency, each supplier will be evaluated using a scoring criteria:
0 – Not met or no evidence / 1 – Partially met / 2 – Met / 3 – Exceeded
Suppliers can be scored on: Technical competence, Cultural fit, Price, Social value.
What the research shows
Government specialists dxw carried out some lengthy research on the quality of DOS opportunities. Being suppliers themselves, they felt frustrated with the sometimes-poor quality of opportunities on the framework. To try and get some concrete stats and drill down into what the problem actually is, they built a tool and conducted 'The Great British Digital Outcomes Armchair Audit'. If according to their research, 68% of the DOS opportunities they looked at did not have a clear summary of work, this already has suppliers on the back foot from the get go!
Their results make for an interesting read, and a required one for suppliers hoping to ask the right questions and get the right response from buyers. Improving DOS framework tenders will make it easier for suppliers and buyers to fully align their expectations when writing and applying for DOS tenders.
How to decide which tender to bid on
There are many things to consider when deciding whether to take the plunge and apply for DOS opportunities. Nearly 4000 tenders have been published meaning that there is a lot to choose from. In our experience, suppliers should work smart and be picky. The main piece of advice we can give is to make sure you have time! Check the dates the clarification period closes as well as when the applications for the actual opportunity closes. You wouldn't want to miss the chance to ask your questions in advance of applying for the opportunity. Don't wait till the last minute to start writing your bid. Too often suppliers rush to complete a response and end up submitting something that doesn't properly reflect their skills and experience. Give yourself extra time to review and refine your response!
Which documents you need to read and why
There are a few documents that suppliers need to be aware of when listing on the Digital Outcomes and Specialists framework. These are the Government Service Manual and the Digital Service Standard…
The Digital Service Standard
The Digital Service Standard is the set of 18 criteria that help governments build, design and run digital services. The manual is a set of guidelines and all public transactional service must meet this standard.
Point 4 is really one of the key elements, so make sure you understand how agile relates to the Digital Outcomes and Specialists framework.
Service Manual
The Service Manual offers further advice and guidance for the successful creation of Digital Services that adhere to the Digital Service Standard.
But why should you read these? Well, although it may seem like these aimed at the buyer, it is important you understand what requirements and standards the service or project you will help deliver needs to meet. This will allow you to be better informed, understand the buyer's requirements and most importantly understand the user need.
Want to know more?
Here's more content from our Knowledge Hub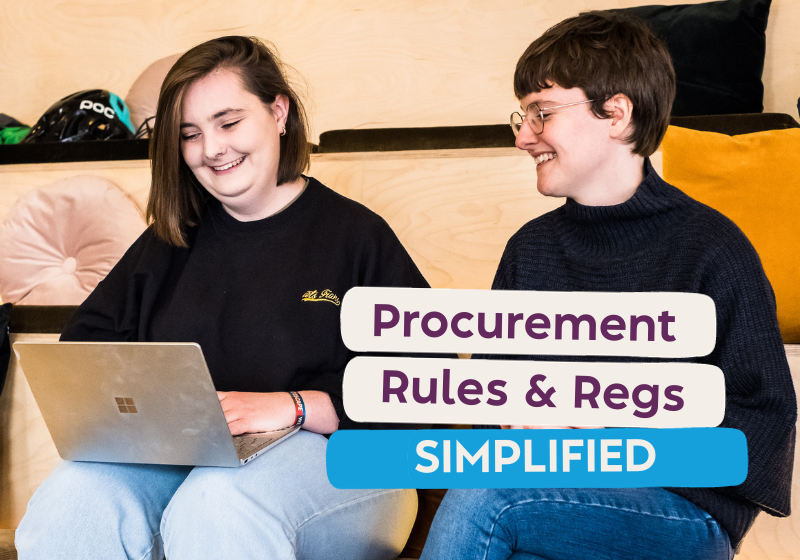 How to respond
Top tips for Tendering
As we mentioned previously, on the face of it applying for DOS is pretty easy but winning the business is not. This includes responding to opportunities on the framework. So, here are our top tips for tendering:
Read the opportunity and then read it again – it may sound simple but if something is unclear then jot this down as a question to submit.
Plan – make a note of the essential experience and ensure you can meet these criteria and if you can demonstrate the nice-to-have skills as well make notes of what previous work you have done which corresponds to these.
Write clearly – structure your response in a straightforward way, what you did, how you did it and what happened.
Use the language in the opportunity – the buyer has included this for a reason because of how it aligns to their expectations.
Time – give yourself time to write, re-read and amend your bid before you submit it.
It's important to take some time to think about what buyers look for in a great DOS bid, and these points should help you get started with just that! And whilst the bidding stage is where the main work happens, in-between opportunities suppliers should be out there marketing the fact they're on DOS and that they're working with the public sector.
What if I'm unsuccessful?
What to do if you don't win
Unfortunately, you might win or even been shortlisted for every Digital Outcomes and Specialist opportunity you apply for. But, don't worry because it doesn't need to have be a lost exercise. Something suppliers seldom do is ask for feedback or even challenge the decision. This can be due to not knowing how, or even if they are allowed to ask.
What about post-DOS6?
The new Digital Outcomes 6
The new Digital Outcomes framework arrived in 2023 for suppliers and buyers to use. A reduced version of the original DOS framework from this iteration. It only has 3 Lots: Digital Outcomes, User Research Studios, and User Research Participants.
There is overlap with Digital Outcomes & Specialists 5 though. With business closing in April 2023 through that framework. You can still use this through the Digital Marketplace.
Digital Outcomes 6 will be usable through the Public Procurement Gateway, the frameworks new home.
Where it came from
Digital Outcomes has been created from what was Digital Outcomes and Specialists (DOS). If you're familiar with the original framework, you may notice the new Digital Outcomes framework is essentially just Lot 1 of DOS encapsulated in its own handy framework.
What's in scope?
Digital Outcomes will be open to all suppliers for 2 years, plus a further 1-year optional extension.
Forming Outcomes as a framework in itself will allow further competition yet more niche.
Musts:
Supply services using Agile development methodology as preference
Comply with Technology Code of Practice
Working according to the Gov Service Design Manual
Support Buyers through
Service Standard Assessments
Comply with any standards that are compulsory with Gov
Develop services based on Open Standards & accessible data protocols
How does it all work?
The application process hasn't changed very much at all compared to DOS. All it will require is suppliers ensuring they can meet the requirements to be listed and bid on the opportunities via the framework. As always, getting listed on Digital Outcomes 6 will be a straightforward process as long as suppliers can provide Digital Outcomes as required by the public sector. The big change, however, is that it is expected that suppliers will have to provide pricing on application! Any changes are all made by CCS in an attempt to make the process better for both suppliers and buyers. The public sector need an easier way to procure solutions to their outcomes, and after feedback from both parties have settled on this. We're excited to see how it progresses!
Suppliers awarded a place will be able to respond and bid to the tender opportunities posted by buyers via the Public Procurement Gateway.
Buyers will place an opportunity open to see by all, and then suppliers will have to compose 100-word responses to each requirement. These answers are evaluated using the MEAT criteria, and successful bidders will be invited to Stage 2.
Stage 2 works a little differently and involves suppliers creating a proposal. How this is delivered is entirely up to the buyers requirements, but so far we've seen written proposals, presentations, and more used through DOS.
Where did Digital Specialists go?
The new Digital Specialists & Programmes framework
With Lot 2 being removed from the Digital Marketplace for DOS6 in 2022 – which will be known as Digital Outcomes 6 – Digital Specialists & Programmes RM6263 (DSP) is a new framework on the scene.
Although now held separately to Digital Outcomes, the provision of Specialists to the public sector is an important part of the government's digital transformation. The first iteration of which will run until 2024.
There are two main Lots for Digital Specialists & Programmes: Digital, Data and Technology (DDaT) specialist resources, and Digital transformation programmes.
What is in scope?
There are two main categories with the DSP framework. Unlike when Digital Specialists were listed on Digital Outcomes & Specialists, this framework can be more specific in what it asks for.
Essentially, suppliers on the framework must be able to provide ALL of; research, test, design, build, release, iteration, support and retirement of digital services, outcomes and deliverables.
Of course, this only applies to digital and technology solutions – everything else is out of scope.
How does it all work?
For applications, it's a much bigger submission than typical for Digital Outcomes & Specialists. For the first iteration, suppliers were (expectedly) asked to provide details of their social value commitments and to show how their provisions can benefit public sector services.
When the Digital Specialists & Programmes framework goes Live in 2022, it will be held separately from the Digital Marketplace. Although still hand-in-hand with Digital Outcomes, the DSP framework will sit on the new government portal called Contract a Thing.
There isn't much we know about this new portal just yet, but we expect it to be a useful tool that buyers in the public sector can use to find the solutions they want, easily and effectively. Putting many services and providers in one place.
The framework operates using Further Competition, like many other CCS routes to market. However, the ability for Direct Award is there within Lot 1. Meaning that if a buyer finds the best provider for their DDat specialist requirements, they can award the contract to them (if done compliantly).
If you're still wondering whether the DOS framework is for you, get in touch and we can help you decide!