Summary
Digital Marketplace growth stalls in 2022
DOS grows 23%, G-Cloud by 11%
Growth particularly weak in 2nd Half
Unlikely to be a hiatus caused by Ministerial changes
Roughly 70% of spend is on Professional Services
Professional Services approx. 60:40 to Large enterprises
Software spend growth falls off a cliff in 2022
A major influence seems to be curtailment of pandemic spend
Direct spend on Hosting now around 8%
Digital Marketplace Spend Data to December 2022
Crown Commercial Service (CCS) have published the data for spending going through G-Cloud and DOS on the Digital Marketplace up to the end of December 2022.
Calendar year 2022 saw 3 Prime Ministers in Downing Street and of course many changes of Ministers in the departments of state. Could this cause spending on Cloud services to be deferred? Probably not, but 2022 saw the lowest growth of spending on the Digital Marketplace in its 10-year history.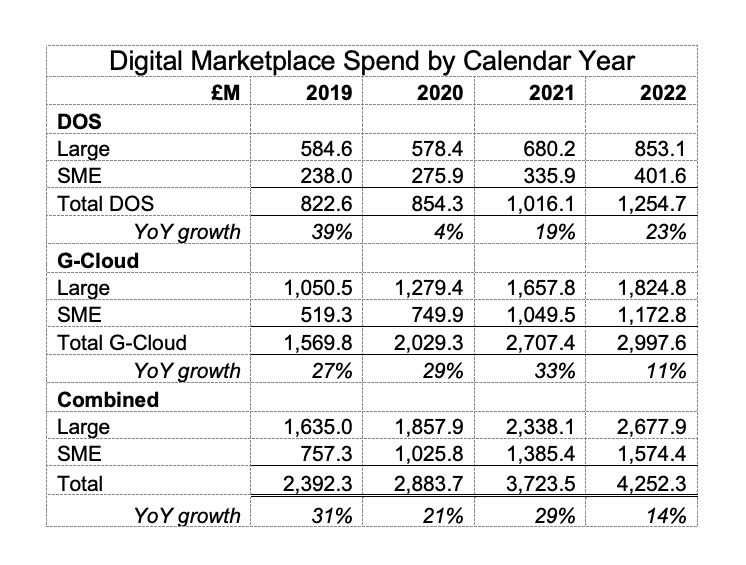 G-Cloud exhibited the weaker growth and although it is still a growing marketplace it is quite a dramatic deceleration. Perhaps the monthly spend figures will shed more light on what is happening in the aggregates:
Something anomalous occurred with spend in November being (roughly) £45m higher and December £45m lower than seasonality would predict. Almost £30m of this took place in DOS a large proportion being spending by Ministry of Justice to one Large enterprise and the G-Cloud share of November's 'blip' was mainly in Professional Services (Support) shared between Home Office, MoJ and Health to three familiar Large consultancies.
It is of course not possible to determine whether the accounting allocated the spending to the right month, but if we consider the figures for the quarter rather than by month, it would even out to a flat line extending through from April.
The overall picture of low growth in the Digital Marketplace for 2022, particularly in G-Cloud is unlikely to reflect on the changes in Downing St and Whitehall, it is more likely to be as a result of the high spending in 2020 and 2021 (e.g. Test & Trace) coming out of the equation and so reducing the total spend by comparison with the previous two years. As spend data on other frameworks and procurement channels are not published, we can only assume that some growth in Cloud services expenditure is going to these alternatives which will have an impact on the year-on-year figures we see here on the Digital Marketplace, a loss to 'open government' as we hear the promise to nurture our tech industries but will not be able to see if it's working.
Professional Services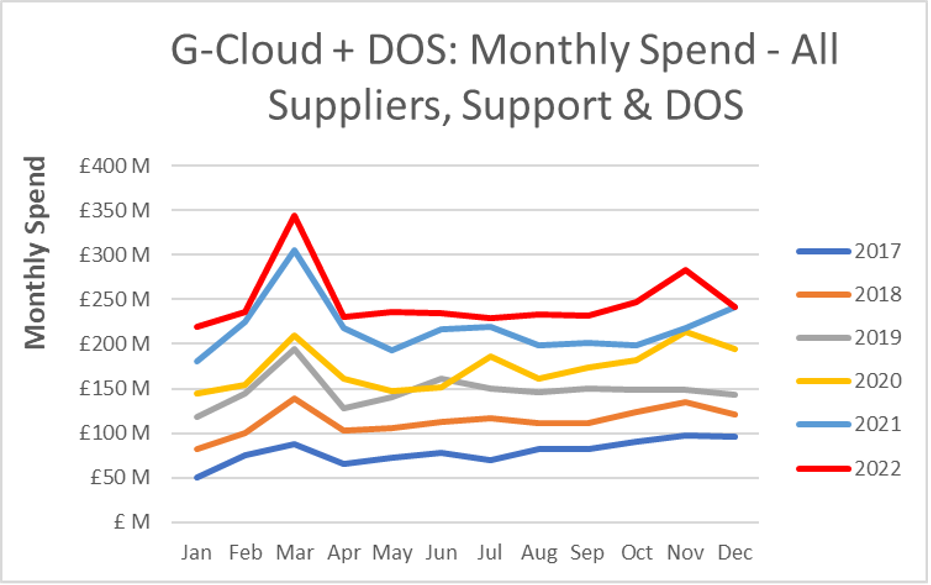 Professional Services remains the largest component of spend on the Digital Marketplace with DOS and the Support Lot of G-Cloud accounting for 69% of spend in the calendar year almost the same as in 2021. SMEs attracted 38.5% of the spend in 2022 (2021 – 38.9%).
The disproportionate amount of spend on professional services in the Digital Marketplace has always been a feature and it does not naturally signpost the harnessing of efficiencies, economies and improved outcomes through adoption of commercial off-the-shelf solutions. With over 60% of the spend going to Large enterprises, with eye-watering SFIA rate-cards, it is useful to remember part of the June 2013 speech by Francis Maude (Lord Maude of Horsham):
"There was for too long a misguided conviction in Whitehall that big was beautiful.
And so, for the most part, long-term, exclusive contracts were consistently awarded to a limited number of very large suppliers. The result was IT projects that were too big, too lengthy, too expensive, too risky and complex – plagued by overruns, delays and failures."
Much has changed in the last 10 years…
G-Cloud – Software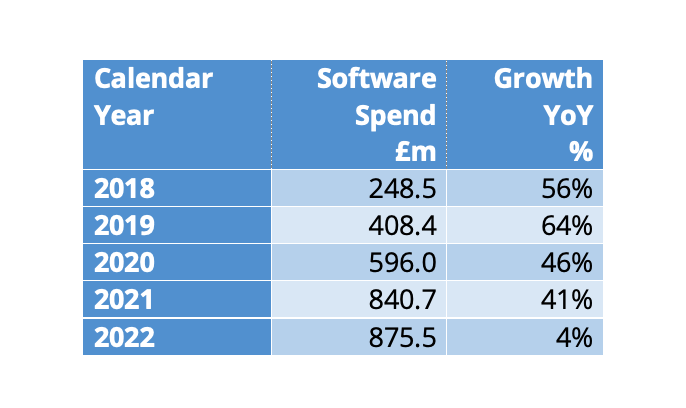 Software's growth fell off a cliff in 2022. While it still accounted for 29% of G-Cloud spending in the last full calendar year. It has been a segment enjoying remarkable growth for several years, which ended abruptly in 2022.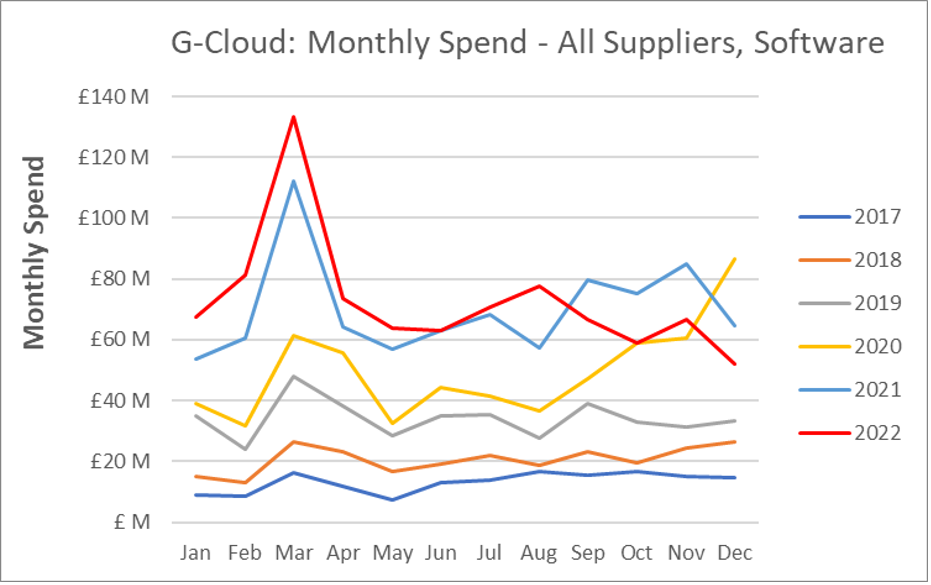 As can be seen in the monthly spend chart, 2022 was very much 'a game of two halves' with 17.7% growth in Software spend H1-2022 over H1-2021 but a contraction of 8.8% in the spend in the second half. This divergence of 26.5% (17.7+8.8) is the equivalent of roughly £100 million (for the second half to maintain growth at 17.7% over the previous year that is the sum that would need to be added to the actual spend in H2-2022). Coincidentally, this is the precise sum by which the top 10 customer groups (ranked by software spend in 2022) reduced their software spending.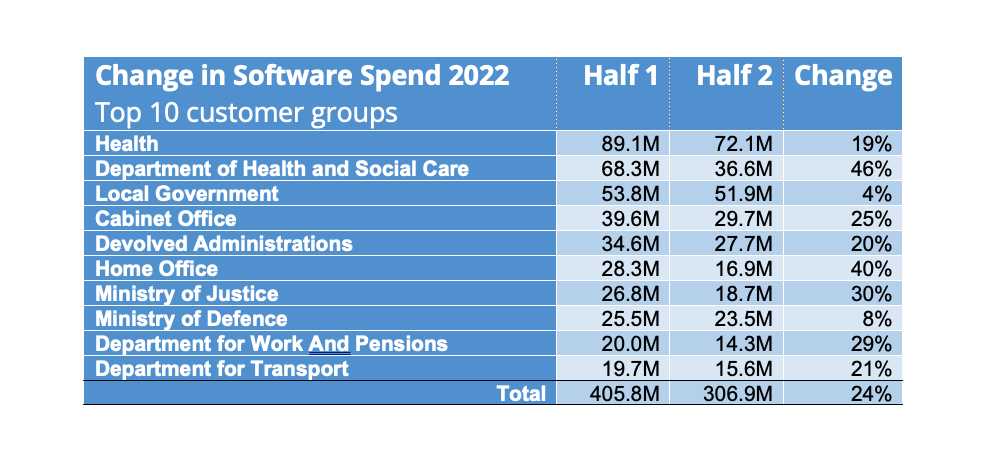 The Dept. Health & Social Care was the largest downward change as the spend to Deloitte fell £30M (63%) as Test and Trace unwound. It is difficult to find a clear pattern in the other reductions but it is possible that others relate to high demand caused by the pandemic (e.g. Cabinet Office cut spending to Firetext (SMS notifications) by £12M in H2-2002).
Looking at the cumulative Software spend charts for Large enterprises and SMEs, it is evident that lower growth in 2022 affected Large suppliers more. This makes sense following the pandemic narrative as the scale of the demand in emergencies can not be easily delivered by SMEs.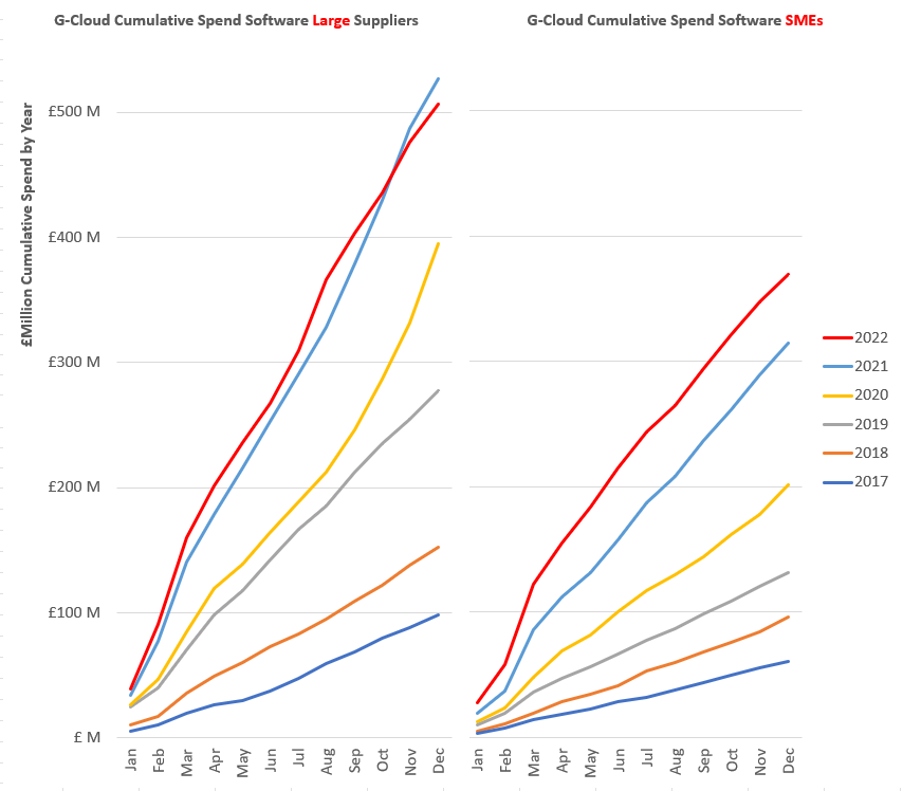 G-Cloud – Hosting
Hosting spend in the calendar year grew 29% over 2021. As a direct spend it only represents 8% of the total spend on the Digital Marketplace, but this obscures the Hosting charges embedded in other Cloud Services and passed through to the customer. As noted previously, part of the increase in spend on hosting will be as a result of Amazon Web Services pricing their charges in US$.
2022 also saw the winding up and commencement of liquidation of UKCloud (formerly Skyscape). This is disappointing and difficult to reconcile with a stated objective of nurturing our tech companies and building a sustainable competitive advantage.
To conclude, here are two further extracts from Francis Maude's 2013 speech:
"Meanwhile more innovative and cost-effective solutions from smaller suppliers were never getting anywhere near Whitehall.
This was bad for the taxpayer and service users. And bad for businesses and growth.
I don't need to tell this audience that SMEs are a crucial engine for growth – 99.9% of the UK's businesses are SMEs, they are responsible for almost half of our private sector output and create two thirds of new jobs.
IT companies in particular are essential for growing our economy – recent research shows British internet companies are growing at a rate more than 50 times faster than the rest of the country, with online start-ups booming.
This expansion is being driven mainly by small and medium-sized firms – most high-growth businesses have fewer than 100 employees, while average revenues are £8.9 million…
…For example, the Home office saved 83% on a hosting contract by contracting with Skyscape. Skyscape is an SME providing hosting and other IT support services – and were one of the first accredited suppliers on G-Cloud. They started as a small start-up with 6 people – and now employ over 30 as a direct result of the business they get through G-Cloud."
Much has changed in the last 10 years, not always guided by a clearly articulated industrial strategy. As Yogi Berra said:
"If you don't know where you are going, you'll end up someplace else."