Technology Products and Associated Services has been renewed for its second iteration, opening for applications in February! The continuation of the TePAS framework with the creation of TePAS 2 points to great success. So we thought we'd look into what happened in the framework, starting with its origin…
The Origin of the TePAS framework
TePAS was born in 2019 from the Technology Products framework, being the first iteration of this framework to include associated services. Technology Products existed on its own for 2 iterations before becoming Technology Products and Associated Services.
The addition of associated services meant that the framework included a greater choice of products and an expanded service provision. This saves time and effort as buyers don't need to run separate competitions. Under the new TePAS agreement, buyers have been able to procure IT hardware such as server racks and smart devices, and off-the-shelf software including webinar technology and cloud computing software. Plus they can add any associated services if needed, all under a single contract.
It has demonstrated itself to be a profitable move from CCS – £2.2bn+ has gone through TePAS since 2020! The average spend on a monthly basis has been £72.5m, and an average of £870m annually. The spend data below speaks for itself!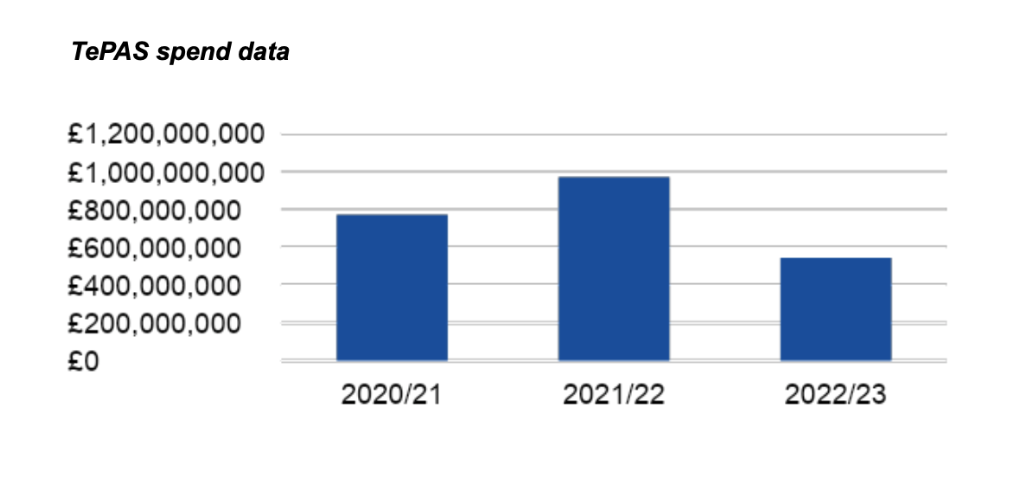 SMEs on TePAS
Out of the 39 suppliers listed on the original TePAS agreement, 50% were an SME. This was a large contributor to the success of the new framework, as CCS worked to ensure greater choice was available to buyers. We expect this statistic will be even more impressive this time around, but the framework will retain the same cap on overall supplier numbers. Advice Cloud supported 3 SME Suppliers to successfully get listed on the initial TePAS (7% of Supplier base), and we look forward to supporting more SME organisations!
There's always room for improvement
As we mentioned, we are about to enter the second iteration of TePAS. To say the new TePAS agreement proved a success would be an understatement! But that doesn't mean it hasn't needed a few changes to create TePAS 2.
The biggest change we're seeing is that CCS is consolidating a large majority of the technology frameworks. Supplier feedback included a wish to keep the 4 original Lots as this worked and was simple to use. However, overall technology procurement market feedback was that there were too many technology frameworks to try keep up with. CCS are therefore keeping the core TePAS structure but building it based on market feedback and needs. This will bring an end to the Technology Online Purchasing Content (TOPC), and EdTech frameworks next year.
Instead, there are now expected to be 8 Lots for TePAS 2:
Hardware and Software, and associated services
Hardware and associated services
Software and associated services
Information Assured Products and associated services
Health and Social Care Technology
Education Technology
Sustainability & Circular IT
Catalogue
You will notice that sustainability now has its own Lot. CCS highlighted the importance of buying sustainably in TePAS, but there wasn't enough emphasis on this area. The 2 options to do this through TePAS were buying remanufactured or refurbished, and leasing or buy-back. The availability of circular IT and sustainability will be pushed a whole Lot more (quite literally) in TePAS 2.
CCS are continuing to adapt TePAS to make it far more SME-friendly. For example, the final Lot will be for lower-value products and orders, creating a lower barrier of entry for SMEs. There is also talk of Direct Award being available across the whole framework, providing this can still align with procurement regulations. Both direct award and further competition are likely to be in there.
Get listed on TePAS 2
Advice Cloud worked on the last iteration of this framework, so we know what to expect. In fact, we've achieved a 90%+ average Quality Score on all frameworks we've worked on to date.
We're now talking to suppliers about how our framework listing services can help them get on to the TePAS 2 framework. We'll help qualify you and make sure this one is for you, as well as run through how we can support you with getting listed. Just a reminder, applications open in February – that's not too far away now at all!
Our TePAS 2 Listing Services include:
Supplier registration
Submission prep and webinar
Compliant in-house developed submission templates
Bespoke application timeline
Regular application reviews and suggestions for improvement
Email support
A dedicated Account Manager during the application process
Just book a consultation with us here!